July 22, 2015
"My Dear Brothers and Sisters in Christ,
I came through your website www.tearlove.org and recited the Chaplet of Tears of Mother Mary and prayed for healing of my husband from his fever who was having a few small signs of Typhoid. My husband suffered from Typhoid 2 times earlier so I was scarred and prayed for him this Chaplet of Tears. Then he became normal and the fever left him. In fact he was very active from the next day and I was so happy. This is a miracle. Jesus heard my prayers through the intercession of Mother Mary tears and healed my husband. I thank Jesus and Mother Mary. Thanks for your website for posting the chaplet prayers.
All Glory to God!"
Thanks,
– Jubitha Antony, Chennai, South India
---
February 12, 2015
"I would like to give my testimony of the miracles that I have received by praying the Chaplet of Tears prayer.
I have had many problems with my 34 year old son for many years. Moises has been in and out of jail and rehab places throughout his life. This time he was looking at 2 years of prison. I started praying to the Blessed Mother although I always pray to her to take care of my family. This time the Blessed Mother gave me a feeling of hope so I let her take care of it. Moises is not in prison but in rehab again. This time I hope it will be the last time. He has shown remorse and has asked for forgiveness.
My husband of 40 years of marriage has stopped drinking; I still cannot believe it but he has. I promise to anyone that no matter how small or big the problem is the blessed mother will take care of it with her tears of love."
– Rosalinda Orejel, Stockton, California
---
December 22, 2014
"My name is Nguyen Thi Thanh Mai, I am falling into a financial crisis. I just found out about the Chaplet of Tears prayer, yesterday. I knelt before the shrine of the Divine Mercy to pray the Chaplet of Tears asking God and Mother Mary to save me and help me in this moment of crisis. The first thing in my mind, I asked God and Mother Mary to help me borrow some money to solve for the difficulties ahead. Indeed, I got a loan! I now pray to God and trust in Him for accepting my prayer!
Thanks be to God and Mother Mary! In your hands, oh Jesus and Mary, I am offering all the difficulties and sufferings of my life to you. May you hear my petitions. Jesus I trust in you! Amen."
– Nguyen Thi Thanh Mai
---
November 13, 2014
"My name is Nguyen Ba Sy. Blessed be Jesus and Mary for healing my kidney disease through the Chaplet of Tears prayer. A year ago, I was hospitalized for kidney disease but it was not cured and the pain did not go away. A few days ago, I was in pain. To see the doctor, I must make an appointment and it would not be available till few days later. By the graces of God and His providence, He has arranged a couple from U.S.A, who are my friends, to come to Vancouver. They visited me and together we prayed the Chaplet of Tears offering our petition to God. We asked God to heal me and He had granted us our petition. Since then I have been praying the Chaplet of Tears and know how to pray to Jesus and Mary.

Thanks be to Jesus and Mary for teaching me know how to pray, healing my kidney disease and blessing my family. Our family is happier than before. Praise the Lord and thank you Mother Mary! Thank you God and Mary!"
– Nguyen Ba Sy, Vancouver, Canada
---
August 8, 2014
"My name is Leonor R. I live in Stockton, CA. I want to tell you my story, so you can know that the miracles come true when you have a big faith and ask God for something with all your heart.
December 2013 was a very sad month for my family. My mother's father was very sick. My mother was very anguished, since she is undocumented, she could not be with her father. But on December 7, she made the decision to go to stay with him the last days of his life. After almost 20 years without seeing him, we supported her, so she could go to be with her father; but always afraid about how she would come back and how long we would be without her. However my mother took off and stayed with her father for two months until he passed away on February 9. It was heartbreaking for everyone, and even more since we could not be there consoling her because we are also undocumented.
On February 27, she decides to come to Tijuana, the border with San Diego, CA; to cross to USA but the Border Patrol caught her. It was very distressing for us, since we did not know where she was. The first of March we knew that she was going to be transferred to San Diego and it was very painful to think of her in jail. Those were the worst days for all of us.
I did not know what to do but to keep praying, and asking God for her to come back. One day, it was Friday, March 7; I went to church to gather with my prayer group. That very day somebody gave me a rosary and a prayer card "The Chaplet of Tears" and told me that a lot of people had got many miracles with this devotion. I started praying with all my faith waiting for the miracle that would make my mother to come home.
Now I am writing this letter to let everybody know that miracles really exist, because my mother is back. The people from Immigration Services let her go back to us; and this is a miracle for me, since the situation at the border is too difficult right now. And God gave her the chance to come back home to her family. I am very thankful to God for having listened to me and to give me my mother back. All my life I have had big faith, but now it is even bigger because I know everything is possible when we put ourselves in God's hands.
Without Him nothing of this had happened. Thanks Lord again!"
– Leonor R., Stockton, California
---
"I would love to give thanks to Chaplet of Tears. It is so powerful to me. My boyfriend was being cold to me and we were not talking properly. I came across this prayer and prayed it. Then one night when I had already slept he sent me an 'I love you' message and from that morning we have been getting along.
And right now I am praying for us to stay close together and go for marriage introductions. Thank you Chaplet of Tears."
– Spalasida
---
"I was so much interested in investing in a particular online business but before I invested I decided to pray the Chaplet of Tears for guidance. Just after finishing the novena, I checked for the website where those businesses were taking place. But I was surprised because the website had been closed and my many friends lost a lot of money. I thank God for sparing me."
– Francis K. N., Kenya
---
"Last week when I was on my way home, I got the chance to give a Chaplet of Tears to a friend, who was also on the bus. Suddenly, all the eyes of the people around us looked attentively at the rosary and the prayer card. At that very moment, there was a feeling of an inexplicable peace and serenity. It looked like we were not in a bus, but rather like in another place where a WONDERFUL sensation overwhelmed all our senses.Very thankful."
– Mr. Jose Nolasco, Nevada
---
"It is because of your prayers and the grace of Our Blessed Mother's tears that we have a new hope – especially since we had prayed the Novena of the Chaplet of Tears, the Divine Mercy, and the Novena of St. Joseph.
God has blessed Christopher to go back to school. My son has suffered a lot because of his past school. I met an understanding lady who had a similar situation.
Secondly, he is receiving special treatment. It is new to us and the people around us. Christopher is very co-operative. We are learning. It may take time to see the result.
Let us continue to pray. In God's time, may He open my mouth to give praise to the Lord through the intercession of the Chaplet of Tears.
I will pray the Chaplet of Tears every night if I am not too tired to fall asleep."
– Lorraine Chum, New York
---
"Blessed be Jesus and Mary. Today Rosa shared with me what the Lord has done through the Chaplet of Tears. A friend of hers got a job. Another friend got healing in her eye. Another one got a job and found solution of family abuse."
– Lorraine Chum, New York
---
"Thank you so much. I appreciate what you are doing. I am so happy you are sending me 25 rosaries and prayer cards. I have seen so many miracles happen after we have put our faith and said the Chaplet of Tears."
– Marilyn Coelho, Australia
---
"I began praying this chaplet for my husband who has a serious addiction. This prayer has turned his life around and I pray that satan and all his ways are removed from his soul. Thank you."
– R. L., North Carolina
---
May 24, 2012

"A couple who is my friend now prays this Chaplet of Tears daily ever since the husband's head illness is gone. They have been praying the Chaplet of Tears for a while and they have received much healing. They just ask me for five more prayers so that they would introduce the prayers to their relatives abroad."
– Le. T.H., Westminster, CA
---
February 2012

"I feel less painful whenever I say the Chaplet of Tears. After the plastic surgery following the surgical removal of lymph nodes together with the breasts for metastasis breast cancer, I have experienced so much pain. Thank God that my pain lessens when I say the Chaplet of Tears every night. I don't know how to pray because I have no religion. I just read it along with rosary beads. Then I say: "Lady, please help me go through this pain so that I can return to work." It helps me a lot. I can sleep better at night. Now I return to work. I think the prayer really helps me in other way too. People are surprised to see me to go through this illness all right as I look OK. Thank you for giving me this prayer."
– According to A.P., a registered nurse living in Irvine
---
"Dear brothers and sisters,
My husband and I were going through a very difficult time when we got our hands on the precious Chaplet of Tears. My husband was diagnosed with stomach cancer for the third time. He is a fifth time cancer survivor, a kidney was removed and a year ago he was diagnosed with prostate cancer.
My husband is 70 years old and is diabetic and suffers from high blood pressure. The doctors felt it was best to take what was left of his stomach; it was going to be a very delicate surgery and quality of life would be very difficult. The doctors recommended a PET scan to find out the damage done. Previously, he had had a polyp biopsy done; that's when we were told that they found cancer.
We are people of faith and pray a lot; we placed ourselves in the hands of God, our Lord. The day after they did the study, we were told that they had found no cancer ... Glory to God! Again God answers our prayers and for that reason I promised Our Lady of Sorrows to spread her devotion. Would someone please let me know how I can get the rosaries to give away in our community and the prayer groups that have supported us with their prayers?
Thank you and God bless."
– Luz Elena Rosales, Stockton, CA
Click here to read the original hand-written letter of Luz Elena Rosales in Spanish.
---
"I can't ever thank God enough for what miracles, graces, and blessing he has brought to my family. I am a strong believer that Jesus and Mother Mary have saved us. We give thanks to God and his holy mother for giving us this miracle. My husband Miguel Cervantes was diagnosed with cancer in his neck. During the surgery to remove the tumor that had spread to metastasis disease (cancer), the doctor was successful at removing the tumor and discovered that there was no cancer detected. The doctor was in complete shock that the cancer that was diagnosed several weeks prior to the surgery was not found at the time of the operation. We are extremely grateful for this miracle that has come to our family.
Everyday we would pray with our family to the Chaplet of Tears, and prayed that everything would come out successful with the surgery. This miracle would not have been possible without the power of prayer and Jesus and Mother Mary.
My thanks are to God and I will continue to pray the Chaplet of Tears for any special needs in my daily life!"
– Lilia and Miguel Cervantes, Manteca, CA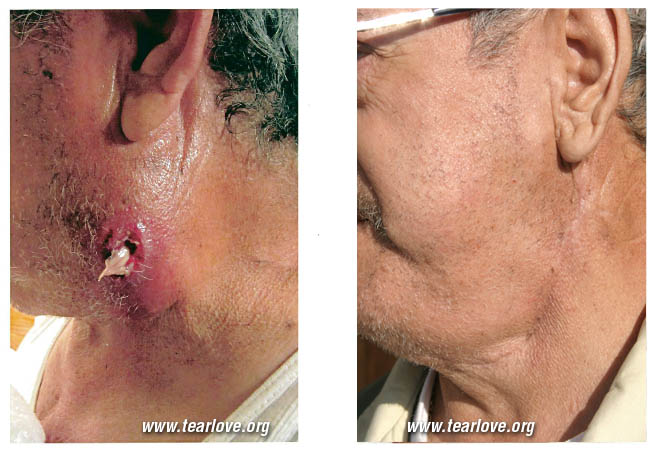 Click here to read the diagnosed document of Miguel Cervantes' case.
---
"My name is Jan Huynh, born Catholic. 20 years ago, my faith in God had abated through life's trial and tribulation. I later had 3 boys, one of which was special need. His name is Trent. He was a twin with a gene depletion which affected all the middle parts of his body. All the middle parts of him were not formed. Therefore Trent is physically disabled and mentally slow. With no signs of speech. Since a baby he's gone through so many surgeries. I lost alot of hope for my son. I was in a state of depression. With that, I also lost faith in my religion. By praying the Chaplet of Tears with my families, God answered our prayers and Trent has much improved. He's able to talk and able to do a little more like a normal child could. God has taught me patience, tolerance, and acceptance. I am now more than ever wanting to be closer to God. As the matter of fact, I enrolled my three sons; Vincent 13 yrs old, Stephen and Trent, 10 yrs old in CCD class for batism this year in the Fall of 2010."
– Jan Huynh, Milpitas, CA
---
"I can't ever thank God enough for the graces and blessing that he bestows on my family! I believed that Jesus and Mother Mary have saved us. Every thing starts with the perseverance; trust in God's mercy and pray through the tears of His Dearest Mother.

For the last few months, we have started adding The Chaplet of Tears in praying together with the Chaplet of Divine Mercy and the rosary to offer my families to Jesus and Mother Mary for the conversion, problems and the sickness in our families.
Finally, our petitions have been granted: first of all, my sister-in law was cured with her sickness. Secondly, she and my brother try to be reconciliation and most importantly they started to be close to God and pray at night as a family.Third, God just converted my other brother whom has been away from the church for 17 years. He actually went to confession for the first time ever since. For his penance he decided to help one of the Catholic Charity for the needy. Fourth, my grandmother, who was a holy person and very devoted to God, has became demented and lost her mind after my mother passed away. She did not want to go for confession and refused to go to church for the last ten years but now she went for confession and get anointed. Amazingly, she has been praying the Chaplet of Divine Mercy, the Chaplet of Tears and the rosary with us everyday now. Alleluia! Fifth, one of my co-workers has been frustrated with God for many years but after I gave her the Chaplet of Tears and asked her to pray. God had converted her heart and she is now going to church and pray the Chaplet of Tears for her children every night."
– Anh Thu Pham, Westminster, CA
---
"After praying the Chaplet of Tears for my son regarding his financial troubles, Jesus and Mother Mary solved his problems and now we're all happy."
– Julia Schmidt, Santa Barbara, CA
---
"After I prayed the Chaplet of Tears for a friend of mine who was possessed by an evil spirit, the devil vanished; she calmed down and peacefully recovered.
There was a person at my church that always gave me trouble, I prayed the Chaplet of Tears and asked Mother Mary to stop her from troubling me and she suddenly left me alone.
I've been wishing for years to have a beautiful statue of Our Lady of Fatima Pilgrimage to come to our church so we can pray the rosary and ask her to bless our parishioners but it was very difficult since this is a wonderful and quite popular devotion and our Lady of Fatima's schedule fills up fast; I then prayed the Chaplet of Tears and asked Jesus and Mother Mary to grant me the wish and Jesus lovely answered my petition and brought the blessings to our church.
My daughter, Teresa Y Tran Lac, prayed The Chaplet of Tears and asked Jesus and Mother Mary to help her find a job and soon after her prayer she got the graces from Jesus and Mother Mary. Thank you God for giving my daughter a job!
My friend, Chuong Nguyen from Santa Ana, California, was amazingly recovered from a stroke by praying the Chaplet of Tears.
Alicia from Santa Barbara, California prayed to Jesus through the Chaplet of Tears for her son to willingly to go to work and have a girl friend; Through the tear of His Mother for all the help and graces, her son decided to look for a job and with God blessing he found a job and he also found himself a girlfriend.
My thanks are to God and I will continue to pray the Chaplet of Tears for any special needs in my daily life!"
– Thu Cuc Lac, Santa Barbara, CA
---
"I have this terrible pain in my stomach. I am supposed to see the doctor on Monday to check it out with a possible surgery. I was told to pray the Chaplet of Tears that it would help. So I did fervently pray it. On Monday when I went to see the doctor he found no problem and I have been well since then. No more pain in the stomach. I went back for recheck a month later. My stomach is fine. I am now very healthy. I am continuing praying the Chaplet of Tears."
– Maria Ontega, Sacramento, CA
---
"I received the Chaplet of Tears in mid September 2009. Our family at a time has been drifting away from God and we don't pray together every night anymore. We each pray our own separate way and praying together is not important to our family anymore. We were always late to church and some time miss church. Ever since I've been praying with the Chaplet of Tears- Mother Mary had encourage us to start and pray together again. I myself have not gone to confession for five years because I believe that you can confess to God. God had open up my eyes and redirect me back to the church and brought my whole family to go to confession. Only in confession we could be closer to God. It also change the way I think about life. I wanted to devote my time for Jesus and to serve him. I wanted to introduce God back into people's life because I find peace and love in him. I get less anxiety and worries because I have God with me. I run to him for every problem that I face and I place my trust in his being. I'm so thankful that Mother Mary comes back into our life again. She brought love and peace from God to our life again.
Mother Mary and Jesus also changed the way I treated people and how I look at people. I used to be prejudice to different races that are less educated than me especially at my work environment. God help me to recognize his love in all these people. I used to have conflicts with a lady at work and I was not going to give her an easy life. But God came to change my way of thinking. He asked me to go and make peace with this person. He show me how to recognized my ego and come to peace with her. I'm very glad that he did that, I actually found peace with her and our working relationship was great. I was able to introduce God to her and help her to come back to God. MY CO WORKER HAS NOT BEEN TO CHURCH FOR 20 YEARS her life was also mess up. She always worries and scared and she lives a loose life. I gave her the Chaplet of Tears and she starts praying and her life had improved. She got married and trying to find her way back to God. She had always opposed in getting her daughter to be baptized but now she told me she had contact a priest and will try to set a date for her daughter's baptism. She and I become good friend now. She trusts me and because of her turning back my faith with God is even stronger than ever. I used to hate this person and yet with God's love I could learn to love this person and even became her friend.

I alone cannot do this but with God's grace and love He can changed enemies into friends. Praise the Lord our God!"
– Suzette Nguyen, Irvine, CA
---
"I prayed for peace in the family through the Chaplet of Tears and received the blessing. The family now lives in harmony and happy."
– Cecilia Castro, Santa Barbara, CA
---

Next > [2] [3] [4] [5] [6] [7] [8] [9] [10]